eLab Co-Founders and SIPA Faculty
Sarah Holloway, Senior Lecturer in Discipline in International & Public Affairs
Fernando Fabre, Adjunct Professor
The Challenge of Equitable Technology Adoption in Education
In 1728, the Boston Gazette ran an advertisement for "Caleb Philipps, Teacher of the new method of Short Hand", where Mr. Philipps offered through weekly mailed lessons- what we could call the first MOOC (Massive Open Online Course). By 1840, the introduction of uniform postage rates allowed Sir Isaac Pitman to teach a course where he would mail learning content on postcards and receive transcriptions from his students. We could call this the first online bootcamp.  
For 250 years, technology-enabled and public policy breakthroughs to bring high-quality, accessible, and affordable education for the majority have been right around the corner. While significant progress has been made, particularly in literacy rates across the world, we still seemed far from a global leap forward. That all may have changed during the pandemic.
At the onset of Covid-19, the broad adoption of technology in education happened almost overnight. McKinsey found that between the start of the pandemic and late 2021, U.S. educators reported a 49% increase in learning technologies that enable collaboration and connectivity. The pandemic forced a rapid uptake in technology adoption across nearly every facet of the education function (from virtual classrooms, asynchronous learning, or blended models) and across every socio-economic demographic and age range (from K-12
to adult learning models, and within every income bracket).
Today, we must reflect on what we learned during this period of time, and what
technological approaches to education will ultimately have a sustained, positive impact for both learners and teachers.
Equity, Affordability, and Accessibility in Education
Perhaps the most pressing question in education throughout the years has been how to bring high quality and affordable education accessible to anyone, anytime, regardless of geography, wealth, and past merit. This may sound an impossible task, yet the world has achieved this outcome before.
Yet numeracy rates, measured as the percentage of adults skilled at problem-solving in math, arguably as important as literacy, stands at just 12%. Tertiary education enrollment (college, associate, and trade school degrees) stands at 40%, while tertiary education attainment, a better predictor of career success, is much lower.
Inequality—defined as a lack of opportunity for the majority—is the biggest problem of our time, and the strength of inequality rests almost exclusively on a lack of educational equity. Lack of high quality, affordable, and accessible education is the largest barrier to accessing good jobs and financial independence, accessing adequate healthcare, participating in civic discourse, and even developing an ability to care for the environment. We believe that technology is the bridge by which we can improve education and quality of life for all.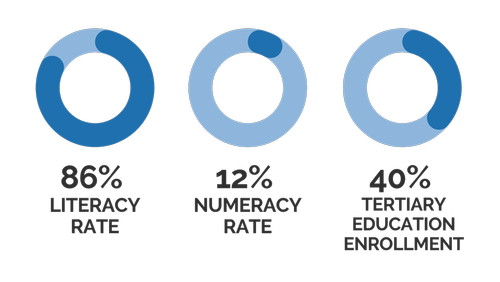 Introducing Spotlights
The eLab team, in collaboration with the Siegel Family Endowment, have produced a series of Spotlights to highlight insights from the education technology (EdTech) startups, both for-profit and nonprofit, that aim to bridge the education gap from K to Gray (Kindergarten through life-long learning). These Spotlights and the founders we interview are a reflection of what the possibilities are, where we are standing today, and what barriers we need to break to reach the full potential of universal access to education.
eLab by Columbia University
eLab by Columbia University is a fellowship that brings together entrepreneurs (Fellows) who are leveraging technology to solve the biggest challenges in education—in K12, HigherEd, Workforce, Corporate Development, and Core Skills Development—with a collective mission to have a major impact in education and workforce development by solving for equity, affordability and universal access. Since its inception in 2020, to date, eLab has served 120 Edtech founders from 11 countries.
Siegel Family Endowment
Siegel Family Endowment is a foundation that aims to understand and shape the impact of technology on society through our lenses of learning, workforce, and infrastructure. Founded in 2011 by David M. Siegel, co-founder and co-chairman of the financial sciences company Two Sigma, we believe that philanthropy is society's risk capital – it can help drive innovation by investing in local leaders and community-born solutions, fostering prosperous and equitable futures for all. Our work is centered around funding organizations that address society's most critical challenges, while supporting innovative civic and community leaders, social entrepreneurs, researchers, and more that are driving this work forward.